OUR PAYMENT MANAGEMENT PLATFORM
Guru Pay
Guru Pay allows property managers and metering and billing companies to manage tariffs, manage payments and mitigate debt risk by remotely switching customers between credit and prepayment, extending friendly or emergency credit, and enabling or disabling supply when needed.
The Guru Hub II in-home display also provides residents with a simple way to view and pay for the energy they use.
RELIABLE
Reliable data, with an open API
We provide reliable data to help you deliver intelligent metering, billing and payment services that satisfies customers while helping you maintain regulatory compliance.
Our open API supports a range of metering and billing services, giving you the freedom to swap to more competitive service providers without changing your infrastructure or disturbing customers.
PRE-PAYMENT OPTION
Supports a range of customer payment options
Data from the Hub II is directed to Guru Pay where top-ups and balances are shown in real-time. Your chosen metering and billing service will allow you to support a range of payment options, including direct debit, PayPoint, internet, telephone or SMS.
Customers can still top up via unique payment code entered directly into the Hub II using the touchscreen even if the site is experiencing internet connectivity issues.
DESIGN
5" touchscreen display
Residents can use the display to view and pay for energy. It also shows:
Credit balance
Current real-time demand
Tariff information, including standing charge and friendly or emergency credit options
Colour graphs of consumption for last day, week and month
Custom messaging from utility to customer
CO2 emissions
Designed with extensive input from residents
IN THE HOME
A Guru Hub II is installed on the wall in every dwelling.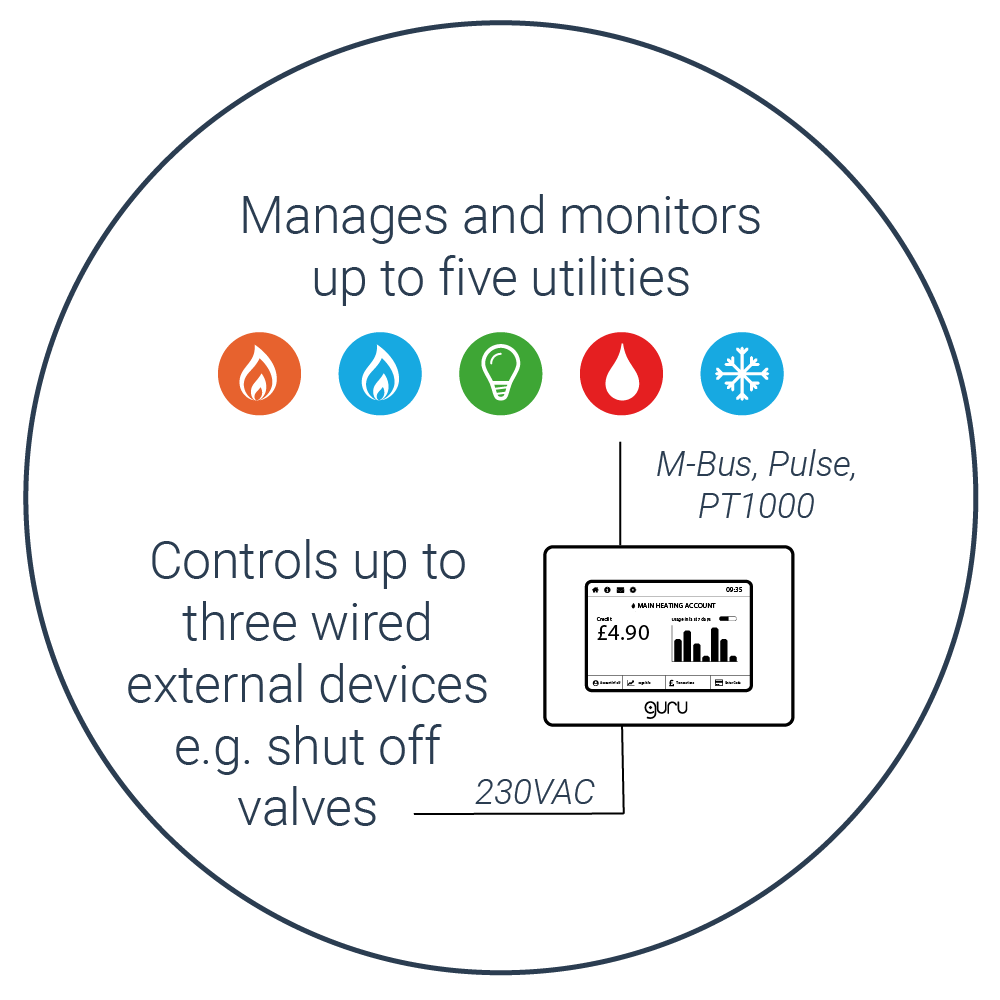 ON THE SITE
A Guru Hub II is also installed in every block, and in the plant room.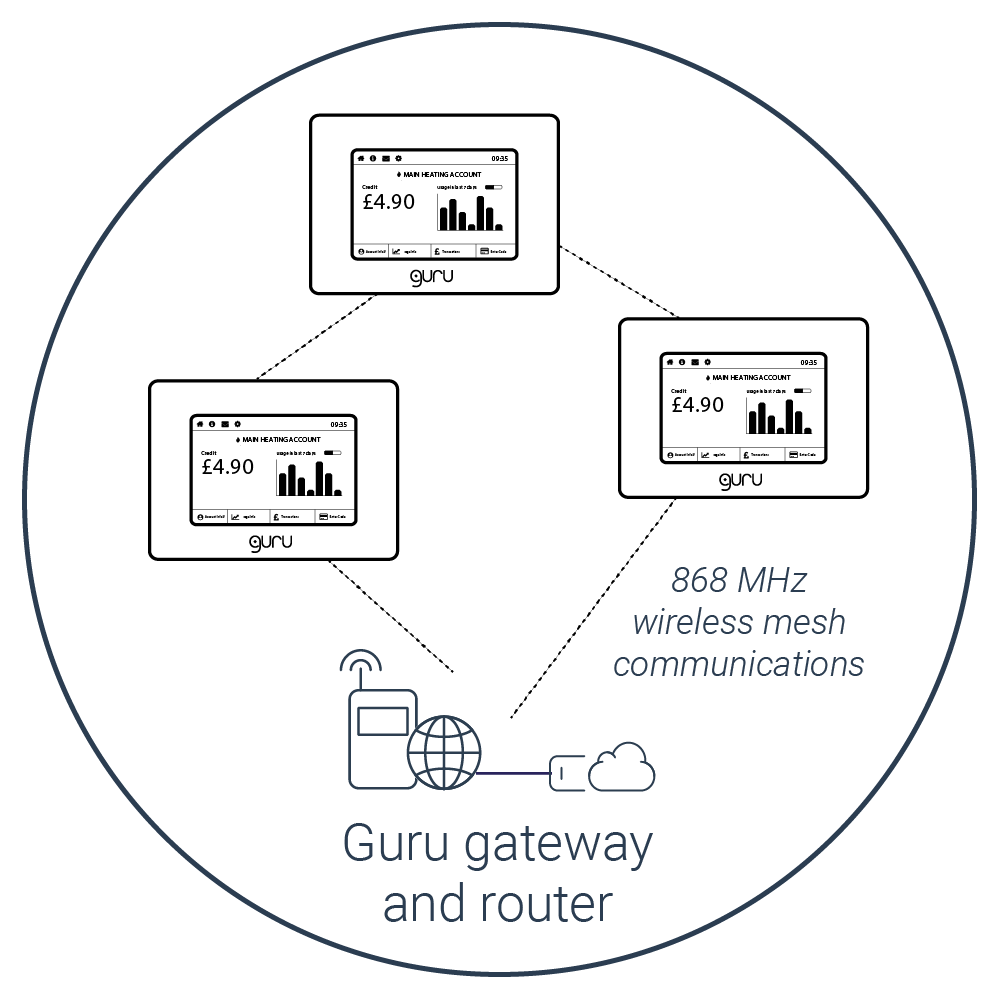 ONLINE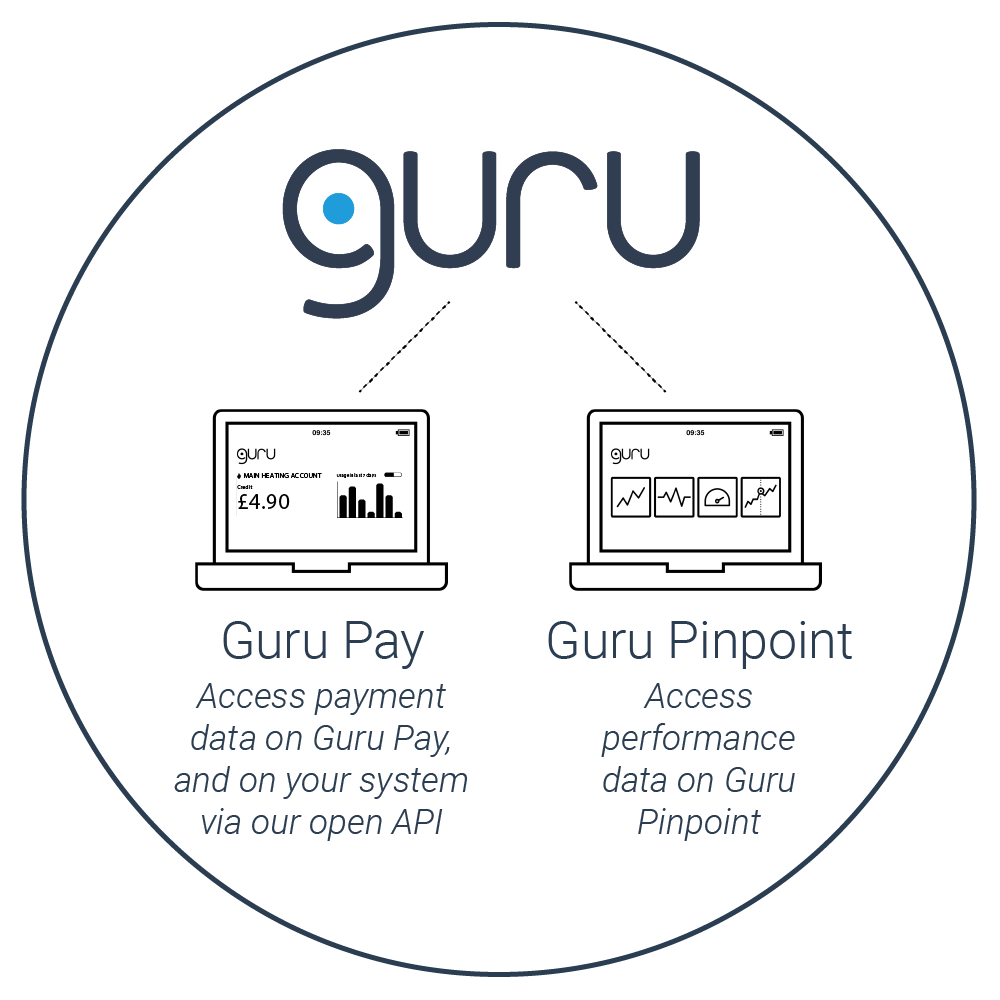 Energy and heating can be an invisible cost for social landlords as we take on the role of heat suppliers. Guru Systems has helped us to understand how to make our heating network more efficient, minimise costs for our tenants and support those at risk of fuel poverty.
Eamon Somers, Octavia Housing
Simple to set up and maintain
SITE DELIVERY
Our site delivery team ensures project setup and commissioning runs smoothly. We work with trusted installers to meet your timelines.
ONBOARDING
Our team works with both your engineering team and head office to deliver training and onboarding across all of our products and services.
SUPPORT
Our Client Success team are here to support you as you support your customers.