Damp and mould are serious problems. In 2018-19, the most recent data published by the UK government, 27% of households in England reported having an issue with damp – that's 6.2 million homes.
Damp and mould isn't a new problem, but more recently the spotlight is rightly being shone on property managers who consistently fail to take it seriously. In October 2021 the Housing Ombudsman published their latest 'Spotlight' report on the issue. It said that social landlords should adopt a zero-tolerance approach to damp and mould.
Health impacts
Damp and mould increase morbidity and mortality for a number of health conditions. The Housing Ombudsman recognised this in their report, stating:
Residents living in homes with damp and mould may be more likely to have respiratory problems, allergies, asthma, and other conditions that impact on their immune system. This, set against the context of the COVID-19 pandemic, highlights the potential seriousness of this issue for residents. There are also other broader impacts on the mental health, education and career prospects of residents living with damp and mould, highlighting why there is a real urgency for change.
For many, the only option for ventilation is opening windows, but when coupled with cold spells over winter, damp and mould have a serious impact on the health, wellbeing and comfort of residents.
You can't manage what you don't measure
While damp and mould is tricky to tackle once it's taken hold, prevention is increasingly possible with regular and accurate data capture. Indicators such as humidity and temperature can be monitored over time and used to predict mould growth.
In it's report, the Housing Ombudsman has urged the sector to change from a reactive to proactive culture when it comes to addressing damp and mould. It recommends a "data driven, risk-based approach" saying that this "will reduce over reliance on residents to report issues, help landlords identify hidden issues and support landlords to anticipate and prioritise interventions before a complaint or disrepair claim is made."
Data capture to predict mould growth
Capturing data and providing analytics to make it useful is what Guru Systems does. Until recently, we've worked mostly with heat networks, capturing and analysing the data that the housing associations, local authorities and private developers need to ensure their networks run efficiently.
We're now taking the same approach in existing properties that are heated by either gas boilers or air source heat pumps. Damp and mould is more likely to affect these older properties, and data capture is limited.
Introducing Guru Heat Smart
Guru Heat Smart allows property managers to monitor and remotely control individual gas boilers or heat pumps. It also captures ambient temperature and humidity data to help predict the risk of mould growth. At-risk homes are shown on the web platform, supporting targeted interventions.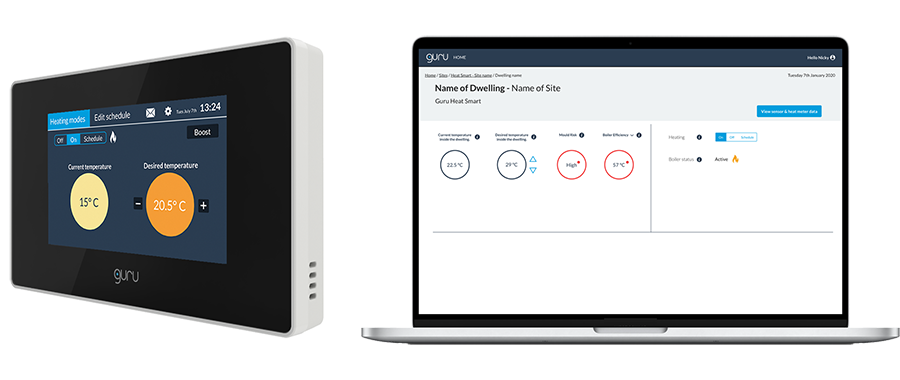 Guru Heat Smart is currently in pilot. We're working with a large housing association to monitor the conditions that lead to mould growth over the 2020/21 heating season.
There are other benefits too. The Guru Heat Smart device also captures detailed performance data helping property managers to assess the efficiency of each individual boiler across a site. The web platform displays data from the heating circuit, including return temperatures from radiators. With this, problems can be spotted immediately, including whether the boiler is condensing properly.
Damp and mould problems are prolific, but data capture has the potential to stop them in their tracks. Products like Guru Heat Smart mean that housing associations and local authorities can ensure that their tenants benefit from the same smart home innovation that is becoming widespread in the private sector.